Welcome to The Thumbnail Blaster Review
I would like to congratulate you for taking the time to read my review and using your due diligence to research into any kind of program like this that claims you can make money online on autopilot.
I am an online reviewer and article writer who wants to help you avoid get-rich-quick scams and find genuine money making methods that actually work.
I am here to assure you I have nothing to do with or I am not affiliated with this product.
This is an independent review with my honest and open opinion. I have nothing to gain by writing this review.
I would also like to inform my readers as to whether or not Thumbnail Blaster is a legit and worthwhile product to buy.
---
SUMMARY

Name: Thumbnail Blaster

Website: Thumbnail Blaster Website

Price: $37

Founders: Stoica and Vlad M

Product Type: Thumbnail Creator and Split Tester

Upsells: YES

Scam: NO

Money Back Guarantee: YES – 30-day money back guarantee
---
What Is Thumbnail Blaster?
I suppose the first question would be, what is a thumbnail? Put basically a thumbnail is a smaller copy of an original image. The need for thumbnails is so you don't have to download the original image which would take up more space on your devices.
The use of thumbnails is prevalent in the making of videos. So the creators of Thumbnail Blaster Stoica and Vlad M have come up with a cloud-based A1 software product to make stunning thumbnails.
When you make a video the first thing your viewers will see is your thumbnail. So it doesn't matter how good your video content is if the thumbnails are not attention grabbing then you will never get the views you deserve and without views, you will never get results.
The A1 software lets you create attention-grabbing thumbnails in minutes. See screenshot below.
Connect your YouTube Channel. Select the template you want to use or let the A1 software choose one for you.
Thumbnail Blaster comes with over 100 thumbnail templates across multiple niches: weight loss, local business, gaming, travel, vlogs, pets, reviews, music, SEO, sports, real estate, makeup and more. Plus the general templates and Click-Bait templates can be used in any niche.
This is where you will edit and customize your thumbnail. There's nothing to install and you don't need any technical skill and each template can easily be customized to fit your needs. You can drag and drop anything, Resize, Change Text and Fonts etc.
Click on PUBLISH and Thumbnail Blaster will update your existing video with the new AI created thumbnail. The software works with any existing or new video.
Just some of the thumbnail templates available with Thumbnail Blaster.
Split Testing Your Thumbnails on Thumbnail Blaster
Thumbnail Blaster comes with in-built split testing software. So it's easy to test which thumbnail receives the most views. The software will analyze all your thumbnails and choose the best one that had the most views.
Test multiple thumbnails and test different images, different headlines, different colours.
Not only will the software split test your thumbnails but it also analyses your images to see if they are:
Adult
Spoof
Medical
Violence
Racy
This is a great tool to use so that you don't get penalized by YouTube for not following their community guidelines. This is available with the upgraded version of Thumbnail Blaster.
To Outsource or NOT to Outsource
You may be thinking of outsourcing to have a thumbnail made for you. This is, of course, is instead of using Thumbnail Blaster.
If you outsource the creation of a single thumbnail via sites like Freelancer, Fiverr or Kwork.
You will pay anywhere from $50 to $500 for a single professional thumbnail.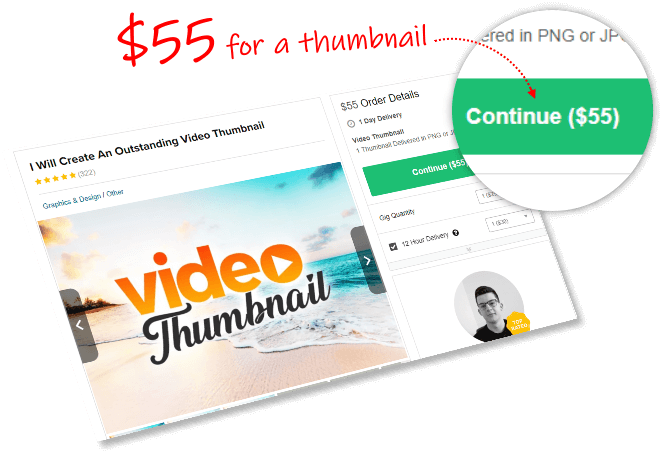 And if you have more than one video, things will become pretty costly very quickly. And you will have to WAIT for the freelancers to create it sometimes up to a week. Not to mention the fact that maybe you just will not like the end result.
Plus all the designers that you will work with, will most probably create the thumbnails based on their own feelings, and their ideas.
The Do It Yourself Way
You could make your own thumbnails by yourself using design software like Canva or photoshop. Canva has a free version but unfortunately, Photoshop doesn't. But it does have a free trial.
There are a few free photoshop alternatives you could use. See the related article below.
I wouldn't recommend going down any of these 2 paths when you can easily create customizable thumbnails using Thumbnail Blaster.
Thumbnail Blasters OTO's or Upsells
Upgrade #1: Pro Version – $47 – Multiple YouTube accounts. A.I. Image Analyzer. (one-time payment)
OTO #2: Agency Upgrade – $67 – Agency rights + Agency website. (one-time payment)
Upgrade #3: Template Club – $27 – 20 new Templates/month + BONUS: 20 VIP templates. (monthly payment)
OTO #4: LingoBlaster PRO – $57 – Translate your Titles and Descriptions into over 100 languages. (0ne-time payment)
Thumbnail Blaster Bonuses
Do you need TRAFFIC???
All you need is THUMBNAIL Blaster and a YouTube Account and you can RANK on the first page of Google and get as much TARGETED TRAFFIC as you want to your offers.
We will show you how to use Thumbnail Blaster at MAXIMUM!
They will also show you live the method that they teach you in the VIDEO RANKING MACHINE ebook and teach you how to dominate Google Rankings with a single YouTube Account and a Thumbnail.
Making Money Ideas Using Thumbnail Blaster
Fiverr
Make some extra money on Fiverr by starting gigs using the Thumbnail Blaster software. All you need to do is join Fiverr (free to join) and set up your gig. Pick the right category in this instance, it will be for designing thumbnails.
You can promote yourself on your Social Media business page and in Forums. I am sure with the right promotion you will be offered some gigs.
YouTube Ads
Making some extra cash with YouTube ads is simple. There is one stipulation though. To be reviewed for the YouTube Partner Programme, channels you need at least 4,000 watch hours in the previous 12 months and 1,000 subscribers to your YouTube channel.
If you don't meet the requirements you can use the Thumbnail Blaster to use in your videos to get more views and subscribers.
Conclusion
I really like Thumbnail Blaster it is a legit product for you to use to make some of the best thumbnails on YouTube.
There is one thing I would like to point out. There is over 100 thumbnail template to choose from in this program. But it may become a saturated market as more and more people start using the existing templates.
Of course, you do have the choice to create your own thumbnails within the Thumbnail Blaster software. Which is a great option.
Then there is the option to upgrade to the Template Club. Where you will receive 20 new templates a month plus 20 VIP templates for your $27 a month payment.
All in all, I believe Thumbnail Blaster is worth the one-time payment of $37. So do I recommend this product?
DO I RECOMMEND THUMBNAIL BLASTER…YES…RATING…10/10
Using Thumbnail Blaster in Your Affiliate Marketing Campaigns
Thumbnail Blaster is an affiliate product you can choose to use in your affiliate marketing campaigns. Of course, there are many products you could promote, but I believe this to be one of the better ones.
I promote a number of products but the best one by far is the Wealthy Affiliate training platform.
There are huge bonuses in promoting Wealthy Affiliate. See below.
2 Free websites (With the free starter plan) 50 free websites with a premium account
Free Hosting (Forever)
Step by Step Training
Live Chat
7-Day Free Trial
Huge Community
SSL Secured
Free Keyword Research Tool
Great Support
Great Affiliate Program (For Passive Income)
And the list goes on.
If you use the above box to join Wealthy Affiliate you will get a 7-day free trial (Called the free starter plan) and access to the first 10 training modules.
I really recommend you take a look inside the member's area of Wealthy Affiliate you will be inspired by the amount of camaraderie by the community.
Once there you can use your own judgement to whether or not this program is for you.
My No.1 Recommended website
Join my No.1 Recommended website. No credit card needed.
Free signup
---
I hope you found my review on The Thumbnail Blaster Review informative enough to give you as much insight as possible so you can make an extremely informed decision when deciding whether or not to purchase this product.
If you have any questions please feel free to leave a comment in the comments area below. Or if you would like to contact me privately you can use the contact me form or the ask me form.
Regards
Janet